Takes effect in minutes 5 5 4 3 2 1
The real alternative to energy drinks

Takes effect in minutes 5 5 4 3 2 1
Ultrafast effect already after 5 minutes
One portion HYPERGY – better and faster effect
How can HYPERGY work so ultrafast?
The pastilles produced with soft-gum technology enable a balanced and homogenous distribution of active agents. The active agents
50 mg caffeine (Reduces fatigue and weariness)
30mg taurine (as intensifier of the psychoactive ingredient caffeine)
0.9mg vitamin B5 (also: Pantothenic acid – supports mental performance)
are blended in an optimal combination.
Due to the molecular structure of the HYPERGY pastilles, the contact to the mucous membrane is immediate; this ensures that the micronutrients quickly enter the bloodstream. Glycerin is the catalyst for this effect. This interplay of components leads to an almost instant effectivity of a lower dosage due to its high bioavailability.
Benefits at a glance
HYPERGY is a highly effective and healthy nutritional supplement -Energy product in pharmaceutical quality. Any negative side effects of conventional sugary energy drinks are avoided with HYPERGY pastilles.
Free from Sugar

Sugar is not forbidden for diabetics, however, it should not cover more than ten percent of the daily energy demand. The World Health Organisation even advises five percent only. HYPERGY is free from sugar and that makes it suitable for diabetics.

Less expensive

Buy four cans of energy drinks at the retailer today and pay approx. 13% more for them.
Quick Effect

takes effect after 5 minutes already, instead of taking 15 to 30 minutes, like conventional energy drinks

Energy to go

In order to reach the same dosage of caffeine, you would have to transport 1 liter of energy drink

Stronger Effect

25% more caffeine, taurine and vitamin B5 per portion
HYPERGY is available in two flavors
The real alternative to energy drinks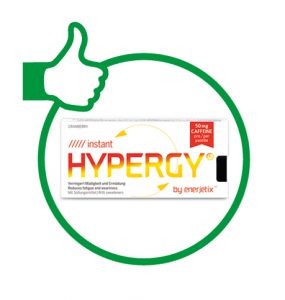 PRO HYPERGY
quick effect (5 minutes)
free from sugar, especially suitable for diabetics
stronger effect (100mg caffeine per portion)
easily digestible
no side effects
easy to transport (pockets)
lower costs for strong effects (1.33 € for 100mg caffeine)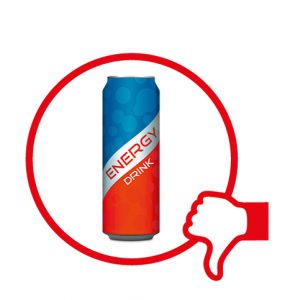 CONTRA Energy Drink
slow effect (up to 30 minutes)
a lot of sugar (up to 28g per 250ml), 9 sugar cubes! 2)
less effect (80mg caffeine per 250ml/usual in trade
carbonated, not suitable for persons with sensitive stomachs
may lead to numerous side effects
not as easy to take along
higher costs for less effect (1.50€ per 100mg caffeine)
2) applicable for market leader products containing sugar

Why energy drinks should be avoided
More sugar (9 sugar cubes per 250ml) counteracts the desired effect of performance boost and may lead to
Lack of motivation and energy
Concentration lapses
Obesity
Depression
Gastrointestinal problems
and much more.1;3)
Plus, the performance enhancement effect only begins after up to 30 minutes. May lead to trembling and a racing heart in connection with extreme physical exercise.
A high price to pay for a long-term stimulant
3) German language page http://www.foodwatch.org/uploads/media/Marktstudie_final_WEB_01.pdf
HYPERGY: Try it for yourself
Improving your performances and capabilities is something very much engraved in us humans. We always strive to tap our full potential and push the limits.